Dr David Unwin Visits Low Carb Skipton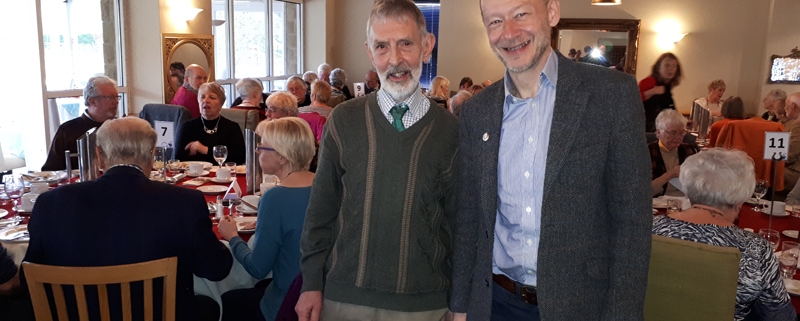 One of the leading figures in the campaign to promote low carb eating has praised Low Carb Skipton as a shining example of what can be achieved at the grassroots.
Dr David Unwin, a Southport GP, gained international recognition after achieving outstanding results at his practice with his low carb approach to diabetes, obesity and other serious conditions.
Dr Unwin is a former NHS Innovator of the Year and regularly appears on TV and in the national press.
He recently joined diners at a special low carb lunch at Skipton's Rendezvous Hotel organised by the hotel in conjunction with Low Carb Skipton founder Verner Wheelock.
Dr Unwin praised the work of Low Carb Skipton, which has helped a number of people across North and West Yorkshire to lower their blood glucose levels.
He said: " We are seeing a grassroots revolution. The internet is democratising medicine for the first time and Low Carb Skipton is a wonderful example of that."
Low Carb Skipton was showing the way and he said it was inspiring to see that people were educating themselves about the realities surrounding subjects like carbohydrates and diabetes.
Dr Unwin's practice has seen around one third of the 175 pre and Type 2 diabetics, who are following his low carb programme, reach drug free remission. His drug-free strategy is also saving his practice £57,000 a year.
His low carb message is also going out to other medical professionals around the country but he expressed frustration that the majority of GPs were still not adopting his approach.
Many GPs were too overworked to develop their expertise in diabetes, he said, but he called on them to study his diabetes e-learning module if they haven't already done so.
Dr Unwin, who also held a Q and A session with the lunch guests, said he was deeply concerned about the alarming rise in Type 2 diabetes, particularly amongst the young.
He called on people to sharply reduce their carbs (which break down into sugar) but he reserved his harshest words for the escalation in the consumption of sugary foods. "Sugar is nothing less than a poison for Type 2 diabetics," he said.
https://lowcarbskipton.com/wp-content/uploads/2019/03/david_unwin_verner.jpg
450
800
carbmin
/wp-content/uploads/2018/08/logo.jpg
carbmin
2019-03-04 16:07:58
2019-03-04 16:28:31
Dr David Unwin Visits Low Carb Skipton